Telecom
Published on September 22nd, 2006 | by Babar Bhatti
3
Skype: Worth a try!
Is Skype a good option for making calls worldwide?
Skype – the immensely popular Internet phone product – has 50 million users worldwide though I don't have an idea of its users base in Pakistan. It uses a proprietary technology which leverages every user's PC resources to route calls. One of the most impressive thing about Skype is how it manages to work through all sorts of network security features which usually block similar services.
Here's an illustration of how Skype works (Courtsey:Business Week). Here is Skype's official explanation.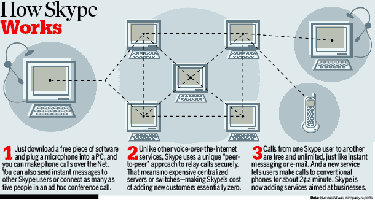 In this post I'll try to assess if skype is a worthwhile tool to have. For starters Skype is free so all you need is a PC and Internet. PC to PC voice and video communication is free with Skype and with many others (Google, Yahoo, MSN). The real question is about making calls from PC to phone numbers. Calls from Skype to US and Canada are free till 2006 end.
According to WiredPakistan users and other feedback, dialup works reasonably well with Skype for some users and broadband speeds of 128 Kbps or more definitely work quite well. Skype is a good communication tool for broadband users but it is worth trying by dialup users as well. Use it before it starts charging for calls or gets blocked!
Here are some helpful tips if your connection is not that fast:
–Users on dialup or narrowband should avoid multi-tasking.
–Use a decent PC .. Skype needs at least
* 400 MHz processor; 128 MB RAM; 15 MB free hard disk space
* Sound Card, speakers and microphone