Broadband Internet
Published on October 4th, 2006 | by Babar Bhatti
4
Digital Divide in Pakistan

Recently the issue of digital divide in Pakistan has been getting attention in the press, courts and the government. Let us review the availability and affordability of broadband services in Pakistan.
Definitions of broadband vary – I'll use the official definition from Pakistan Government's broadband policy document: Always on Internet connection with a download speed of at least 128kbps connectivity.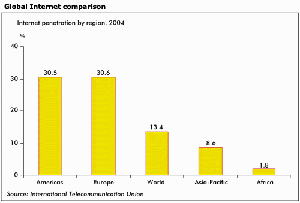 There are two main problems with broadband in Pakistan:
a)The cost of broadband is prohibitively high in Pakistan (compared with developed and most developing countries) with the result that in 2004 there were more Internet users in London than in the whole of Pakistan (details here)
b) Within the country there's sharp difference in the availability and prices of broadband. This is a problem faced not just by Pakistan but by most countries of the world: urban areas have better and cheaper broadband infrastructure than rural and remote areas.
Well how expensive is broadband in Pakistan? For instance in the US one can get the fiber-optic based broadband (5 Mbps) for $35 (about Rs. 2100) per month. In Lahore/Islamad/Karchi one would pay Rs.1000-2000 for a much slower connection with upper limits on usage volume. Who sets the broadband price and what are the criteria? Actually this is a topic of bitter dispute between PTA, the telecommunications regulatory body and PTCL, which till recently was the only service provider in Pakistan. PTCL is also referred to as the 'Signifciant Market Player' because of its incumbent status. See my previous post on battle of bandwidth rates.
These are the main controlling factors for broadband:
The role of government for deciding international bandwidth rates, oversight of service providers, and deregulation.
Role of private sector in making the necessary investments and providing acceptable service;
Market conditions (demand for bandwidth)
On a positive note, there is the recent announcement that World Bank has offered 125 Million USD to Pakistan to promote rural telephony. Excerpts below:
Minister for Information Technology Awais Ahmad Khan Leghari said rural tele-density in Pakistan stood at a dismal 1 per cent of the population and he was keen to take it to at least 5 per cent by 2010. The rural-urban divide is constantly widening as the mobile phone revolution is largely forced in the urban areas …

The minister said the government had identified four key areas, including basic rural telephony, broadband, e-services and content development, to focus on during the roll-out of the Universal Service Fund.

"Our aim is to provide at least 250,000 broadband connections and offer three major e-services within the next 12 to 18 months," he said.
Read the full news item here. One of the first thing which comes to mind is the Grameen Phone in Bangladesh. I hope Pakistan will learn the lessons from them.
I plan to monitor this situation and post updates.