Foreign Investment
Published on November 7th, 2006 | by Babar Bhatti
7
Orascom Profile & Mobilink's Performance
Here is all you wanted to know about Orascom, parent of Mobilink (official name: Pakistan Mobile Communications Ltd or PMCL) , in a nutshell. This snapshot will give you some insights into Mobilink's parent group and is intended to educate potential investors. You may find its strategy and management approach interesting as well.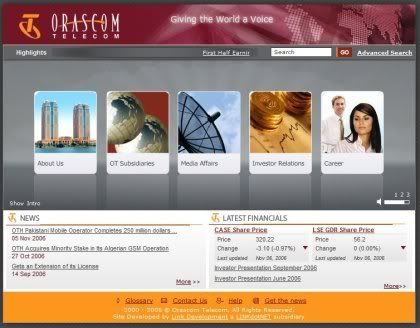 About Orascom's International Reach
Orascom Telecom Holding S.A.E. ('Orascom Telecom' or 'OTH') is a leading international telecommunications company operating GSM networks in seven high growth markets in the Middle East, Africa and South Asia, having a total population under license of approximately 460 million with an average mobile telephony penetration of approximately 19% as at 30 June 2006. Orascom Telecom
operates GSM networks in Algeria ('OTA'), Pakistan ('Mobilink'), Egypt ('Mobinil'), Tunisia ('Tunisiana'), Iraq ('Iraqna'), Bangladesh ('Banglalink'), and Zimbabwe ('Telecel Zimbabwe'). Among other international ventures, Orascom Telecom also owns 19.3% of Hong Kong-based Hutchison Telecommunications International Limited operating in 8 countries.
Investment Information
Primary Symbol & Exchange: ORTE – Cairo & Alexandria
Other Symbols & Exchanges: OTLD – London
An example Mutual Funds in US with Orascom holding:
T. Rowe Price Emerging European & Mediterranean TREMX (has 5-star ratings from Morningstar)
Highlights of results from first half 2006
Orascom had  41 Million Subscribers and revenues of over US$ 2 Billion. It added 20 Million subscribers in last 12 months which is impressive. However the average revenue per user (ARPU) kept falling, though slower than before. Capital expenditures increased in Pakistan but overall fell 7%. Net income increased
12% from June 2005. Earningsper share increase 8% in that period.
Full details from the most recent earnings report:
http://www.otelecom.com/Investor_Relations/EarningRelease.aspx
Recent Headlines about Orascom and Mobilink
Though this post is about Orascom (and not specific to Mobilink) but a relevant news is that Pakistan Mobile Communications Ltd raised US$250 million funds from abroad this week.
It is the first international corporate bond issuance by a Pakistani corporate issuer in 12 years and the
first ever high yield bond offering by a Pakistani corporate issue.
Most of the proceeds will be used to fund capital expenditures and refinance its outstanding bridging facilities. European investors bought 40 percent of the deal, while Asian buyers and U.S. accounts each took 30 percent. On Oct. 23, 2006, Standard&Poor's Ratings Services assigned its 'B+' long-term corporate credit rating to Pakistan Mobile Communications Ltd.
Media Articles of Note
Orascom: This Mobile Upstart Really Gets Around – BusinessWeek
Recommended reading – How Orascom leverages emerging markets.

Egyptian Mobile Phone Provider Treads Where Others Dare Not – NY Times
This New York Times article is about Orascom entering in Iraq – interesting notes on risk and reward.
A Telecom King Broadens His Horizons – BusinessWeek
How Orascom is increasing its global power by buying stakes in other companies.
Continue to read more about Mobilink's performance in 2006 and its position in the global telecom space.
In Pakistan Orascom / Mobilink had the first-mover advantage for many years.
Now with entrants such as Warid and Telenor on it sheels,  it is facing a number of challenges and it will have to improve its offerings and service if it wants to retain its top position. The churn (the subscribers who leave) rate of 3.6% in Pakistan is a little over average (in 2005 it was worse – 4.9%).
With upcoming new data services such as EDGE, Mobilink hopes it increase the average revenue per user.
I would advise keeping a close watch on its data products and other services (Jazz Load, Mobitunes) to see if its going in the right direction.
Mobilink installed more than 1,000 cell sites bringing the total number of cell sites installed to 4,353. As a result Mobilink's coverage reached more than 1,000 cities, towns and villages across the country.
The overall picture of Orascom is that of a strong and aggressive company which is competing effectively against its global competitors. With all the risk Orascom takes, it is well-suited for those investors who are not satisfied with playing it safe. Till now Orascom's investors have been rewarded well and there is no reason for this to change in near future.