3G
Published on November 18th, 2006 | by Babar Bhatti
6
Telecom Growth In Pakistan's Neighbors: Part 1 – India

From time to time I'll write about telecom action in other emerging economies especially in Asia. The first in this series is an overview of mobile telecom market in India. In last few years the Indian mobile market has seen remarkable growth (average 5 million new subscribers per month during Q3 2006) and at this time India is the fastest growing mobile market in the World. With almost 100 million mobile users India is 4th in terms of total subscriber numbers.
This post will cover 3 topics: Overall business environment for mobile industry, Mobile Players and Growth Areas & trends – 3G's future.
The business environment for India's telecommunications industry is excellent . The government policies have encouraged the growth, increased competition and high levels of foreign direct investment (up to 74% foreign investment is now allowed) . The Indian government's goal is to provide an environment where service companies, handset manufacturers and network companies will invest in India and use India for research and development work (R&D). The favorable business environment has attracted a number of foreign multinational firms such as Hutchison, Vodafone, Nokia, Huawei, Maxis and Malaysia Telecom. In my opinion the real edge for India will be the R&D facilities being setup there which can provide innovation for next generation technologies – not only for India but for everywhere else as well. China is in the same race to position itself as an R&D hub (see my post on Huawei). Pakistan lags behind in this important area, perhaps due to a smaller pool of skilled resources and lower political stability. 
Mobile Players
For list of GSM providers in India see this page from website of Cellular Operators' Association of India operators (COAI).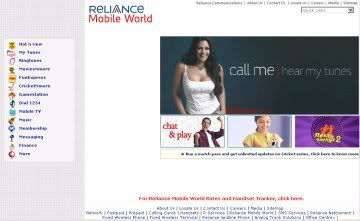 Based on June 2006 data from Cellular Operators' Association of India (COAI),  Bharti Airtel is the country's No 1 mobile operator with over 23 million customers on its GSM network and a 21.9% share of the market. Vodafone has 10% stake in Bharti and it is considering to increase that.
Reliance Infocomm is the second largest operator with 20 million customers on its CDMA network and about 2.5 million subscribe on its GSM network. Reliance is in the process to acquire GSM spectrum for additional 21 regional circles and with this it may overtake Bharti as India's leading mobile operator. On the left is a snapshot of Reliance website showing its value add features such as ringtones, multimedia messaging and alerts. 
State-owned BSNLis third in size. With all the issues of an inefficient state-run company, it faces stiff competition but it has potential in rural areas and with fixed wireless technology. Compared with PTCL of Pakistan which has was privatized this year, BSNL seems to be a step behind. Indian mobile unit of Hong Kong-based Hutchison Telecommunications International Ltd is India's fourth-largest mobile services provider. Interestingly Orascom has about 20% share in Hutchison.
All the major equipment makers of the world are in India. Nokia is the major handset maker (it earned $1 billion from India alone). LG of Korea is a major new player – it signed a USD 100 million contract to provide sets to Reliance.
See this blog post about quality of services of the operators by TRAI, the telecom regulatory agency in India. And if you want to read about the emerging Asian giants which have invested in India see this.
Growth Areas and Trends: Rural demand, 3G?
The ARPU rates fell on average by 11% in early 2006 causing some conern for the mobile operators. This is a typical situation faced in new markets where mobile phones are mainly used for voice communications. As the growth in urban areas slows down and the rural areas become the growth focus, the rural region will be the next stage of competition. The demand for voice will continue with rural growth but the trend of low revenue per user is also likely to continue.
The 3G technology has not hit the Indian market yet.  
Currently the Indian telecom regulatory agency (TRAI) is in consultations over its licensing strategy after which it will present pricing recommendations. COAI is pushing for 3G services and policies so that average revenues per user can be increased. The commercial deployments expected in 2007. All the major operators have expressed interest in rolling out next-generation services and BSNL in particular is betting that 3G will boost its subscriber base. Meanwhile Bharti has signed a USD 400 million deal with Nokia to expand its GSM/GPRS/EDGE networks in eight regions.  Others are also planning similar expansions. 3G rollout and adoption will be an important test for Indian mobile operators. 
Here are some excerpts from an article about 3G at Wireless Forum.
Swedish telecom equipment maker Ericsson believes that the rollout of 3G telecom networks in India will help operators reduce costs, offer an array of services to users, and connect millions in rural areas who have never used a phone.

"3G as a technology is more advanced and more efficient. One base station in a 3G network can take 80 calls as against 17 calls per base station in 2G," says Sudhin Mathur, Manager, Sony-Ericsson.

Other equipment vendors such as Nokia and Motorola are also gearing up to meet the demands of the Indian market. Nokia, for instance, is developing a High Speed Downlink Packet Access (HSDPA), a natural evolution to 3G that will bring even higher data speeds with a simple software upgrade.
In conclusion Indian mobile market is set to grow remarkably well with the current business climate and if it can go beyond voice and make 3G a success then it will be an exceptional success story.