Companies
Published on December 19th, 2006 | by Babar Bhatti
1
Telecom and Disaster Management

 Information and communication technologies (ICT) play an important role of lifeline in disaster management life cycle. The recent disasters in Asia and USA have highlighted the need for interoperable standards and technologies, and better planning and coordination to leverage telecommunication for disaster management. This post will describe various efforts around the world to improve the use of telecommunication technologies for disaster mitigation.  
As a case in example, after the earthquake in Pakistan Inmarsat-sponsored Télécoms Sans Frontières(TSF) responded immediately to the disaster. TSF created emergency mobile satellite telecoms centres – using Inmarsat equipment – for rescue teams, local authorities and other emergency relief efforts. After the quake cellular mobile operators in Pakistan were also allowed to offer their services in Kashmir. Even so, according to ITU, rescue and relief operations in Pakistan were drastically hampered because telecommunication infrastructure was severely damaged and distribution networks almost perished, .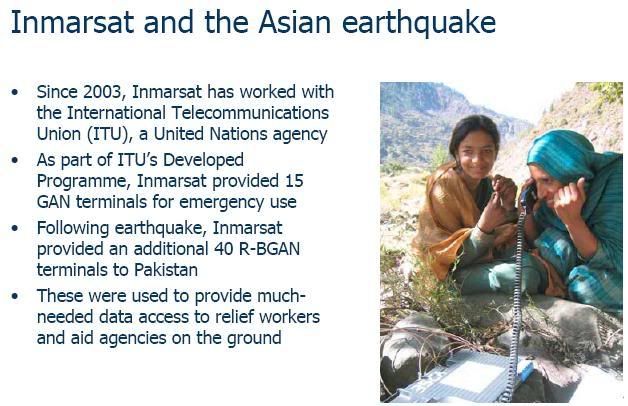 Let us take a quick look at how telecommunication helps in disaster management lifecycle, who are the key stakeholders, what are the challenges and what are the new developments.
The disaster management lifecycle has 4 phases: Preparedness, Mitigation, Relief and Recovery.
The Stakeholders include:
Policy Makers– ITU, World Bank, United Nations, WSIS
Regulators– ITU, Country specific Agencies eg PTA, FCC
Operators – Service providers, Equipment Makers
Academia – Universities, Researchers
Civil Society– Non Governmental Organizations (NGOs) e.g. IFRC
The challenge is to bring the stakeholders together so that synergies are realized and innovative solutions can be offered. For instance see the image below from a Japanese mobile phone which provides maps and instructions in case of a disaster.  I'll summarize some of the important developments over the last few years.

Hyogo Framework for disaster reduction presents the results of global leaders to build the resilience against disasters. It was adopted at the World Conference on Disaster Reduction in Hyogo, Japna in Jan 2005. It addresses issues of digital divide and how to leverage ICT for disaster mitigation and presents detailed action and followoup plans.

Tampere Conventionis a resolution specific to emergency telecommunication. ITU is responsible for driving its content, ratification and adoption.  Tampere Convetion describes the procedures for request and provision of telecommunication assistance, legal and financial matters and the logistics. You can get full details about it here.  Pakistan is not one of the 35 countries who have ratified Tampere convention.
The challenges
To give you an idea of the challenges faced, I'll share excerpts from a talk by Dr Ferrari of Swiss Agency for Development and Cooperation :
The availability and use of interoperable and adequate telecommunication resources are indispensable tools for humanitarian relief and disaster mitigation. Public and private humanitarian relief agencies are often stunned to learn that hefty import duties must be paid for their telecommunications equipment, that they have serious problems to import and operate telecommunication equipment and that operators must obtain operating licenses before communicating within the area of disaster relief operations and with the outside word. The Tampere Convention is a targeted effort to facilitate the provision of timely and effective telecommunication resources and of rapid, efficient information flows for disaster prevention and response.
In another interesting development, a petition has been put forth in the USA to deal with emergency communication issues as faced by victims of Katrina hurricane. Read the full news article here , excerpts are below. The petition asks that carriers should be required to set up alternative communications service for customers affected by disaster-related outages. Carriers would be given a choice:
They could activate a voice mail servicethat could be accessed by incoming callers dialing the customer's phone number. This would enable customers who don't have any outgoing phone service to receive incoming calls or record an outgoing voicemail message providing information about their status and location.
Or, the carriers could provide expedited local number portabilityto customers whose service has been knocked out. This would enable customers to quickly port their phone numbers to alternative providers (including IP-based providers and providers outside the affected area) and thereby reestablish communications links with their families and friends.
The Pakistan earthquake of 2005 and the Tsunami of 2004 presents many learning opportunities. This post touched upon just one technical topic . However one post cannot do justice to this complex topic. I hope that you got a glimpse of how telecommunication can save lives.
Resources and Further Reading: