Broadband Internet
Published on December 20th, 2006 | by Babar Bhatti
1
Big Phone Firms Delve Undersea For Asian Growth
A front-page article in the Wall Street Journal (12/18) reports that some of the world's biggest telecom companies are racing to tap China and other rapidly growing Asian markets by building faster pipelines for the surging volume of Internet and phone traffic produced by multinational corporations and the region's consumers. The article mentions that Verizon  is set to sign a  $500 million agreement with five major Asian telecom carriers to build the first high-speed trans-Pacific undersea cable system, to be called "Trans-Pacific Express", directly linking the U.S. and China.
Verizon Business and partners China Telecom, China Netcom, China Unicom, Korea Telecom and Taiwan's Chunghwa Telecom will start building the cable in the first quarter with completion expected in the third quarter of 2008. Meanwhile, according to the article, people familiar with the matter say AT&T is in talks with Telekom Malaysia and Singaporean carrier Starhub to build a cable line linking Southeast Asia and the U.S.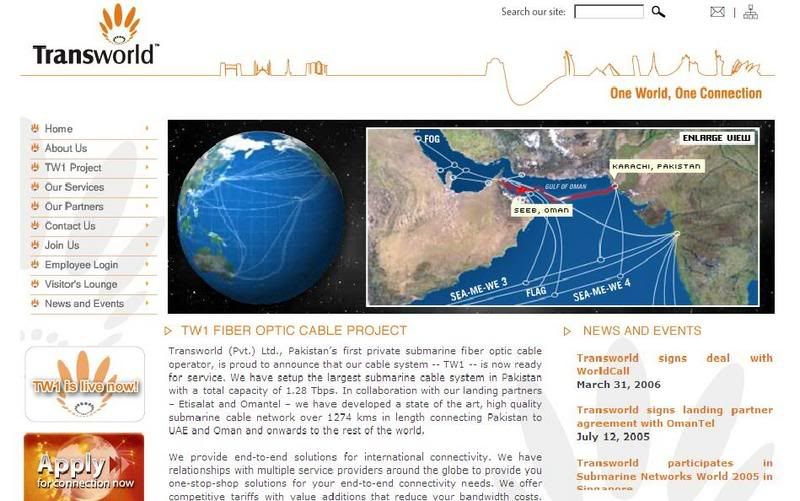 These are interesting developments. Recently Trasnworld Associates, Pakistan's first private submarine fiber optic cable operator, have provided a new undersea cable system known as TW1, with a capacity of up to 1.28 terabits per second (Tbps). This will increase Pakistan's bandwidth capacity and provide much-needed resilience against failures. Till this came along Pakistan had only one pipeline connecting it to the gloabl internet. For a good overview of Pakistan's internet connections see KO's blog post. The Trasnworld wesbite shows a glimpse of their work, as shown below.
Hopefully these projects will provided the much needed additional capacity needed for Asia's growth and will speed up the work to reduce the deep digital divide.