Broadband Internet
Published on December 22nd, 2006 | by Babar Bhatti
14
Triple Play In Pakistan
Triple play made its way to Pakistan. Triple Play service is a marketing term for the 3 services: high-speed Internet, Video (TV, Video on Demand) and telephone service – all over a single broadband connection. Wateen, PTCL and Nayatel are a few examples for which services are already or soon to be available in some parts of Lahore and Islamabad. The important question is if these services will be affordable and reliable?
Wateen's triple play offering was recently unveiled with its services for DHA Lahore, scheduled for commercial launch in January 2007. With all the digging work going on in DHA, it will be a relief for the public. According to the press release by Wateen:
This project will provide DHA residents access to a breadth and depth of 21st century telecommunication and media services through fiber optic and wireless WiMAX networks. Services provided will include innovative telephony calling plans for local, nationwide and international routes, video conferencing/video telephony, true broadband internet (both fixed and wireless), DVD quality TV viewing and Value Added Services such as security & surveillance and interactive gaming.
Pakistan Telecommunication Company Limited (PTCL) was awarded the country's first IPTV operating licence in November 2006 and will be an major competitor. PTCL has yet to announce a timetable for rollout of the service. "We have some exciting plans that we will be announcing soon," was all PTCL CEO Mohammad Bamakhrama would tell local press. According to discussion forums, PTCL will use Alcatel IPTV solution which is based on partnership with Microsoft.
Alcatel (NYSE:ALA) also helped NayaTel  of Pakistan to supply the region's first fiber-to-the-home (FTTH) solution to deliver a high bandwidth triple play (voice, video and data) services to over 30,000 subscribers in the capital city of Islamabad. More on this here. Sample rates for Nayatel's Internet service are: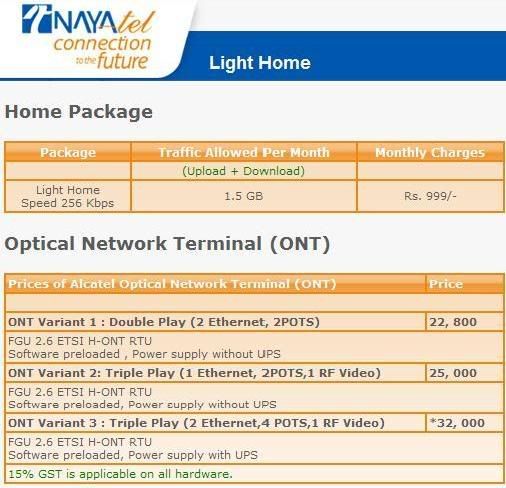 Now that we have these services available to select few, let's monitor their success rate in 2007. Price is the main factor here and the one-time cost of the equipment (i.e. ONT) is likely to be the hurdle. If companies can asborb the equipment price in exchange for a contract, it can speed up adoption.